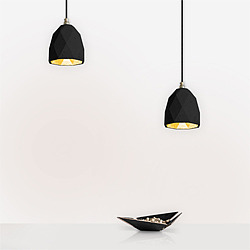 Gant & Mania is a German design duo based in London and Berlin.
We offer individual hand-crafted lamps and furniture with heavy architectural influences as well as typographic posters. Studying architecture together, we learned a lot about forms and materials, which helped us in developing our idea of simple and effective design.
Starting off with only one lamp, we added more designs over the years and were able to work on different series of posters and screen prints. We get easily inspired, which means we are always working on new designs to expand our current product range.
The main material for our products is raw concrete combined with noble gold, silver or copper to create something unique. The colours of our screen prints are all mixed by hand to make sure that they look perfectly right.
We want our customers to experience raw materials in a new way, and hope that our designs enriches their lives.
Each product is carefully hand-crafted and can't wait to brighten up your home!