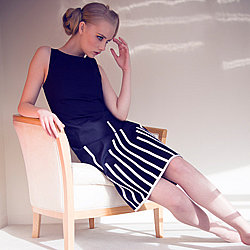 Lagom is a brand from South London which grew from a small team of just two people to become a go-to label for retro inspired modern womens clothing and accessories.
Guided by the love of all things beautiful and inspired by travel around the world at Lagom we create gorgeous feminine fashion. Designed by women entirely for women the clothes are stylish, versatile and comfortable, making you feel your best whatever the occasion.
The name, Lagom, is a Swedish word that means 'just right' or 'perfect balance'. With that in mind our collections are well balanced with the right amount of classic gracefulness and quirky charm. For a good measure we have also thrown in a bunch of retro detailing and stunning fabrics.
We work with small manufacturing businesses and co-operatives in Asia and Europe. Fair working conditions are important to us and we visit our suppliers as often as possible to make sure good standrads are being maintained.
Recently we have also introduced jewellery and accessories. We have collaborated with selected artisans and craftsmen to create stunning pieces for you to experiment with to create your own individual look.
Dress 'just right', dress Lagom!