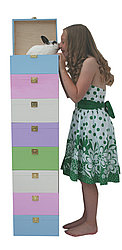 Welcome to Freya Design the place to buy top quality wooden keepsake boxes of all shapes and sizes. The ever expanding range includes keepsake boxes, memory boxes, jewellery boxes, money boxes, trinket boxes, pen cases or just plain storage boxes.
They make perfect gifts for special occasions such as Christening, Wedding, Birthday, First Holy Communion, Christmas, New baby gift, Special Birthday, Mother's and Father's day.
The boxes are made with a unique three-dimensional design using natural materials such as wood and textiles. They can be personalised, with one name only, for no extra charge.
All Freya Design products are not only designed to be functional but are also beautiful and stylish - form follows function. The Scandinavian countries have a long tradition of wooden furniture and interior design making, so it is no coincidence that the founder of Freya Design, Marie Ekerholm, comes from Sweden.
By using high quality solid wood, which is a renewable source unlike metal or plastic, it should last a lifetime rather than disintegrate like a cardboard box. Naturally, the wood used is sourced from countries where there are strict regulations regarding sustainability. These boxes will literally be treasured for life.