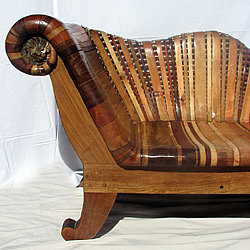 Free Range Designs is a small family run business based in west Wales, where we have been making beautiful and unique furniture from original designs since 2002.
Using only recycled, reclaimed and ecologically sound materials, Free Range Designs offers a diverse variety of products that ranges from huge driftwood story telling chairs to recycled cork notice boards. Driftwood is sourced from local beaches, oak fence posts from neighbouring farms and slate from former pool tables. Only the best quality natural waxes and oils are used on our furniture and many pieces are designed to be suitable both indoors and outdoors.
A lot of the furniture we make is to bespoke designs, so do contact us for a personalised piece of furniture that we will be delighted to make to your specifications.
Paul and Suzanne