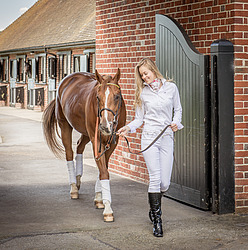 Welcome to Freddie Parker.
Freddie Parker is a British Designed Quality Equestrian Inspired Brand.
Combining a love of racing and a background in graphic design, I founded the Freddie Parker brand to create a fashion and homeware brand inspired by the social side of race meetings. I hope the resulting range will be enjoyed by those that share my passion, whether they are involved with horses or just love the atmosphere and excitement of a day at the races.
The brand is named after my great-great uncle Freddie, a silversmith, who in 1915 was invited to the US to engrave the trophy for the Kentucky Derby. Remembered in the family as an adventurer he travelled out to America on HMS Carpathia which three years earlier had picked up survivors from HMS Titanic.
Our products are ideal for anyone looking for an original gift for a horse riding, horse racing, polo, equestrian sports, hunting or country pursuits enthusiast.
The brand successfully launched at pop up shops at racecourses in the summer of 2013 and is now available to order online.
I hope you have as much enjoyment from my products as I did in designing them.
Kind regards, Sue Bryant