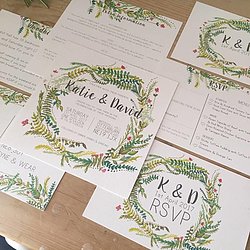 Fred&Elsie Design creates beautiful wedding stationery featuring hand painted watercolour designs. Designed in her home studio in Newcastle Upon Tyne, Kate created her own wedding stationery and guests loved them so much that she wanted to share them with all the lucky couples.
Fred&Elsie is named after Kate's great grandparents who had a wonderful marriage and we hope the designs give you as much happiness.
Before creating wedding stationery, Kate studied at Manchester School of Art and moved on to begin a small business selling animal illustrated gift and homeware, before becoming a playground designer - life has finally begun to calm down and her dream of thinking about swoonworthy weddings all day can finally come true!