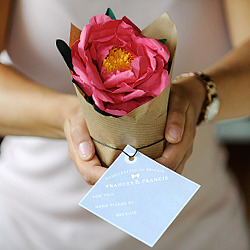 Frances & Francis is a paper art studio based just north of London in sunny St Albans. We specialise in all things floral and pretty. As well as selling our goods we also teach paper crafts at workshops, design and make props for window displays and create tutorials for crafting too.
Helen Frances is the paper arist and designer of Frances & Francis. The second Francis is a tribute to her grandfather who was a wonderful, encouraging and supporting figure to Helen.
Helen's flowers were featured on BBC 2's Handmade Revolution program in the autumn of 2012 as well as on many prestigious design blogs and well known wedding magazines. Such features include Brides, You & Your Wedding, Design Sponge, Decor8 and Oh Joy!