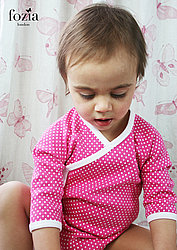 Stylish, ethical babywear. 100% Organic Cotton and Fairtrade.
The first Fozia baby wear range features bright contemporary colours that mix and match together perfectly for both boys and girls, creating a versatile, fresh and stylish look.
The brand's aim is to provide fashion-conscious mothers with products which not only look good but are also kind to a baby's skin and to the environment.
The full range includes play suits, kimono grows, dresses, t-shirts, leggings, blankets, hats and pants.
Some of the feedback we've received:
'We say Hurrah! to new organic label Fozia and their wonderful baby clothes. Strong colours, using low impact dyes and clean cut designs' - Angels & Urchins