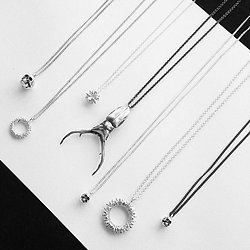 Fou Jewellery is a unique brand with a focus on fascinating textures and forms found in nature, exuding an unusual and gothic aesthetic.
The collections have been created using traditional jewellery making techniques alongside cutting-edge technology.
By combining these contrasting production methods, Fou Jewellery hopes to create contemporary, elegant, and stylish jewellery for both men and women.
All of the Fou Jewellery products are created and finished by founder Cassandra Bassett, in her small jewellery studio at The Custard Factory, in Birmingham.
Cassandra trained at the renowned School of Jewellery in Birmingham, West Midlands, where she was taught to design and make jewellery by hand, and using 3D modelling software, enabling her to create innovative, beautiful, and tactile pieces of jewellery.
Drawing inspiration from the natural world and her surroundings, Cassandra challenges herself to create collections which are thoughtful and engaging, and made to the highest standard possible.