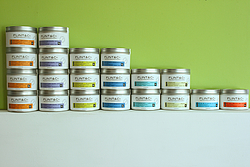 Hello, my name is Ed Flint and I'm a vicar. I'm also the founder of Flint & Co.
I love tea. And I love tea because tea is one of the greatest things in the whole entire world. It can relax you, it can revive you, it can stimulate you and it can refresh you. It really is quite brilliant. Almost certainly all the world's problems would be solved if everyone just drank more tea.*
And that's why I founded Flint & Co., to provide fantastic teas to the good people of Britain. We are small, completely independent company, based in Shepherd's Bush in West London. And our mission is to get everyone drinking great quality tea.
Tea is the nation's favourite drink, but unfortunately a lot of it really isn't very good at all. The tea that finds its way into most tea bags is actually the dust which is left over after good quality tea is processed. And the difference in taste between good tea and bad tea is absolutely flipping ginormous!
This is why quality is so important to me. Because once you've tasted great tea you'll never go back. So all our teas are of the highest grades, they are all whole leaf - supplied as loose leaf or in Tea Pyramids, and each one has been lovingly picked, tasted, blended, selected and packaged to ensure that when you buy one of our teas, you only ever experience the very best.
After all, life is too short to drink bad tea.
*almost certainly all of the world's problems wouldn't be solved if everyone just drank more tea. (But it couldn't hurt.)