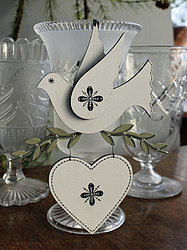 Helen Fitzjohn and Mary Stone set up this business last year, having recently come out of an established design business of 13 years. Previously we were involved in wholesale and larger quantities with foreign suppliers but our hearts lie very much with wanting to make more individual unique products in the UK.
The beauty of being able to make bespoke items is that we can personally work with a customer and create something special for their occasion. Inspiration for these designs comes from a love of antique ephemera, children's 1960's illustrations, folk art, textiles and much more besides.. We love working with paper, wood and fabric, to create something that we hope the customer will treasure.
We have established this business by creating collections of cards, tags, garlands and wooden decorations, with the intent to also work on more individually designed 'one off' pieces, including commission work.