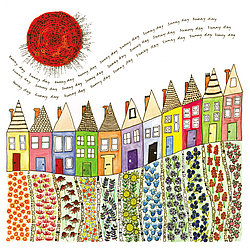 I am inspired by the patterns formed in nature and reproduce them as circles, spirals, lines, columns and borders. My drawings are full of intricate detail often I find it hard to stop filling the space. I also use text with my drawings sometimes repeating the words to form part of the pattern. My other job as a gardener means that i am inspired on a daily basis by my surroundings. My true home is by the sea which means that my heart is ticking with the tides and the waves.
All my prints are limited editions. They are printed on acid free watercolour paper to the highest starndard and mounted and attached to a backing board ready to put into a frame. They will arrive in a cellophane envelope and wrapped in cardboard.
My cards are professionally reproduced using FSC paper. They are taken from my original drawings. I have also had some tea-towels and notebooks printed. All produced professionally to a very high standard.