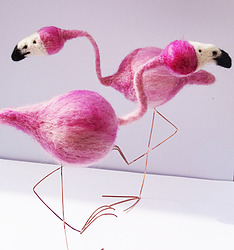 Handmade one-off needle-felted collectible animals and decorations using 100% wool, from dogs to foxes, hens to rabbits. To complement these, decorations from Easter Eggs to Christmas robin baubles, and wonderful brooches, keyrings and door hangers in vivid colours, the possibilities are endless.
My designs are inspired from my illustrations, and my two dimensional work became three dimensional. And since Felting For England was born, I have made a commission of someone's beloved pet dog, and then went onto my smaller designs and created robin baubles, which flew off the shelves!
Needle felting looms were first invented in 1866, but it wasn't until the 1980's that someone used the single needle technique we use now. It is a dry form of felting rather than wet felting which is produced using friction and soap and water, and bought felt which uses the same process, but with only 30% wool.