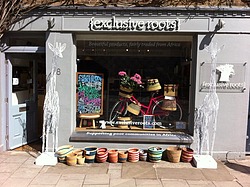 Exclusive Roots is the trading arm of Tabeisa, a UK registered charity and operates under fair trade principles. Income generated through Exclusive Roots is reinvested into Tabeisa to support the social and economic development of poor communities in Africa.
We specialise in offering high quallity, contemporary, fairly traded products from a range of African countries.
As an organisation we are committed to supporting disadvantaged communities in Africa. All our products are sourced from small businesses or cooperatives based in poor communities in Africa. Some of our larger businesses are fairtrade accredited but many of our smaller businesses do not have the resources to achieve formal fairtrade accreditation. However, before we source from a business we always assess their working practices to ensure that they are adopting the principles of fair trading. This is not always easy as many of our businesses are 'one person' businesses and are often working long hours.
Through our system of staged payments we ensure that our businesses always have sufficient funds to cover their costs and do not incur debt to produce our orders.