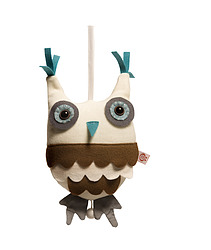 Esthex is a lifestyle brand for kids and grownups creating gorgeous toys for both babies and older children. Every toy has a story behind it as Esther creates everything with her own childhood in mind.
For the newborns and babies, there are cute dummy holders and rattles in the shape of various animals to engage the baby's imagination from early-on. For naptimes and in the evenings, the lovely music boxes will calm down both the younger and older children. And speaking of older children - the beautiful and cuddly dolls will transport them to their fantasy world. For every age there are toys that are comforting, stimulating and inspiring for little creative minds.
The story of Esthex is very sweet like its products - in 2003, Esther found Sophie again. Sophie existed in a childohood drawing, one that was very well hidden away in Esther's parents attic. Esther felt inspired by the humour and simplicity and took the drawing, which she had made when she was four years old, and turned it to the first model for the Esthex dolls. Ever since then, numerous new pretty dolls and friendly animals have been added in to the Esthex family. Some of these characters like to play a musical tune in the form of a music box, others like to entertain in the cot or the pram, and some just like hanging around with the little ones. Something that is very common to any Esthex toy is their warmth and simplicity, and these elements have made these toys big favourites for both children and parents alike.