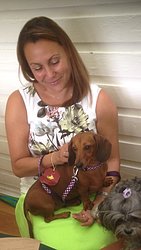 Estee Moscow is the designer and creator behind her collection of personalised gifts. She has been selling her collection on notonthehighstreet since 2007 and since, her range has evolved and expanded to include personalised gifts for everyone in the family... including the dog!
Estee is passionate about sewing and has great attention to detail. She loves that her items are unique and handmade, and that each item has been carefully thought through and sewn perfectly by her. Her items may vary slightly to the next one, due to them not being mass produced, but individually cut and sewn.
When Estee is not working or sewing in her studio in London, she is a full-time mum to two boys. She loves to bake and make exciting things in the kitchen. She is also a Dachshund owner and loves everything daxie related!
Estee says "receiving a gift with a personalised touch makes the perfect keepsake". I am sure you will be delighted with the great quality and well designed item you purchase from her.