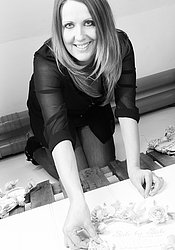 Ella and Joe is a range of unique, personalised gifts and home decorations created by Katie Gauntley. The range of products make stylish gifts for birthdays, special occasions, weddings or just a keepsake for yourself.
Inspired by Katie's love of texture, mixed media and graphics, the products are created by mixing different materials to give a really unique and elegant look. Combining woods, ribbons, paper, fabrics and metals give each product different textures and aesthetics and they ensure the products are not flat and unusual.
The majority of the products can be personalised with the wording and also by tweaking colours to co-ordinate with your specific colour theme.
We aim to give the best service to all of our customers and will happily tailor any of our products to meet your requirements or create you a bespoke order.