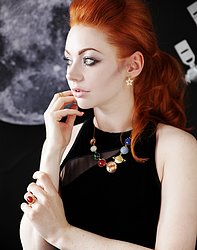 Founded in 2004, Eclectic Eccentricity had its beginnings as a weekend hobby of gift shop manager Lucy Crick. With a penchant for the pretty, she scoured antique shops and markets for quaint curios and exquisite gems, piecing them together with other trinkets and treasures found hidden away for years. This is the heart of EE. Each and every piece weaves a tale, from its individual components, a new story is made. It's jewellery with stories to tell...
EE did not grow overnight, but from its humble beginnings on a living room table it's now grown into a small Empire! Devoting hours to creating new pieces and sourcing components to imagining new stories and ascribing names to the designs, it's flourished.
Managed from our studio in Norwich, Eclectic Eccentricity has a small army of celebrity fans including Eliza Doolittle and Paloma Faith, and is regularly featured in major magazines such as Marie Claire, Grazia and Vogue.