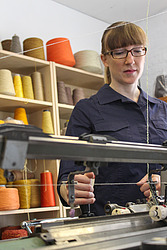 Hello! I am Renee, also known as EastLondonKnit. I design, make, and hand-finish everything in my store.
I began knitting a while studying a foundation course at Camberwell College, and couldn't stop. After a degree in Fashion Design with Knitwear at Central Saint Martin's College, I had the opportunity to buy some beautiful antique knitting machines. I set up my little studio in the 'artistic' part of Hackney in East London. It is such a joy to be surrounded with yarn and be able to knit all the time!
I have a particular interest in the sustainability of both materials and design itself. My creations are made with high-quality yarn and I particularly enjoy making unique objects to be used and loved for years to come.