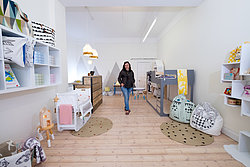 We are a small independent boutique based in Gerrards Cross, Bucks, specialising in modern sustainable design, and one of the only few UK retailers offering a wide range of organic and natural
products for your home and children. At E-Side we believe natural design is the key to wellbeing in interiors.
Our products are selected against a strict criterion to ensure they embody the very principles of positive luxury. Shopping with us is like getting certified assurance that what you're buying is both good and
gorgeous, inside and out.
We celebrate natural materials, support local and sensitive manufacturing processes that respect the
earth's natural resources, and handpick only the finest products that promote a healthy home.