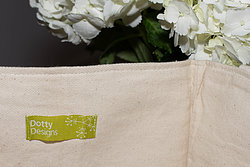 Established in 2002 by textile and product designer Hannah Wright, Dotty Designs offer an exciting range of British-designed textile home, gift and storage products featuring striking photographic and retro images.
We are delighted to present our most comprehensive collection to date with brand new product lines and collections for garden lovers, children, cooks and the home that everyone will love.
Our flat-packed fabric storage cubes are available in a variety of sizes and designs, a unique and stylish concept in home storage.
Dotty Designs' popular garden range now includes new kitchen accessories printed with antique seed packets from the Garden Museum archives as well as pretty florals.
We offer attractive yet practical pieces perfect for cheering up your home or giving as an unusual gift.
Happy shopping!