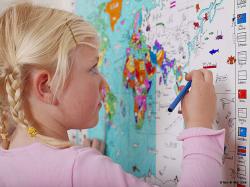 At Doodlebugz we design and produce a great range of giant sized colouring poster kits, including maps, fairies, mermaids, dragons and so much more. Pens are included in every kit
Doodlebugz own products are Designed and produced in the UK.
Doodlebugz Giant Posters to colour are something completely different offering hours of mess free entertainment the whole family can enjoy. Prefect for rainy days, holidays and the ideal quality gift.
No glue! No batteries! No paint!!!
Doodlebugz aim to make quality, original, fun and educational toys, that we know children will enjoy.
We also have sourced a mix of toys, pens, rulers, puzzles, colouring puzzles and jewellery all aimed from tots to teens.