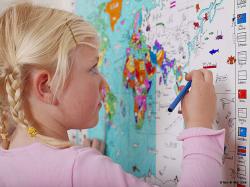 The Doodlebugz story began in 2005, when old school friends, Helen and Nicky decided to develop activities that would entertain their children on rainy days and holidays. They designed and produced a great range of giant sized colouring poster kits, including maps, fairies, mermaids, dragons and educational posters and a travel activity journal.
Doodlebugz own products are Designed and produced in the UK. All our poster kits come with colouring pens and each poster kit is packaged in a durable colourful tube, to help keep the posters safe when tidied away.
No glue! No batteries! No paint!!! No Smart Phone!!!
As their families have grown and developed so has Doodlebugz. They added to their product range by sourcing traditional games, fun activities and practical and educational gifts, that can be used at home or on your travels.
All their products have been approved by their own children who now range from 11yrs to 19 yrs. Offering something fun and quirky or to help with exam revision!
Ideas for the whole family to enjoy. Doodlebugz aim to introduce quality, original, fun and educational activities, that we know children will enjoy. We have also games and gifts that will take you from tots to late teens and student life that are fun, or quirky. As we know how tricky it can be to find something different.