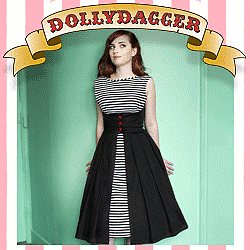 Dollydagger is a British label for those that love a piece of retro history brought bang up to date.
Founded in 2005 by Emma Ayres (or Dolly as she is sometimes known) the Dollydagger label grew out of a personal desire for well-made clothing and accessories with a twist, for all women irrespective of age and price tag.
The first of its kind and well known for pioneering the vintage revival in the UK, Dollydagger continue to produce well made, perfect fitting garments from superior quality fabrics and trimmings.
Over the years Dollydagger have featured in many well known publications, such as Vogue, Harpers Bazaar, The Mail on Sunday, InStyle, Now, Heat and many more.
The Dollydagger Boutique collection is manufactured and hand finished in Brighton UK so that our customers can cherish their garments for years to come.