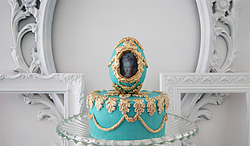 Enter the wonderous world of Dolce Dolce.
If Marie Antoinette were alive today she would certainly utter the phrase ''Let Them Eat Cake'' once she laid her eyes upon Dolce Dolce creations....
Dolce Dolce is a bespoke cake, petit treat, cupcakes and confections boutique. Along with our custom cakes and confections we also offer decadent dessert tables for events.
In all our unique cakes and luxurious confections we draw inspiration from the world of fashion, art and architecture with an emphasis on the opulence of Versailles, the extravagant style of Marie Antoinette and 17th and 18th century Baroque and Neoclassical architecture. We are enamoured with the indulgence and fleeting beauty of cakes, our designs are evocative, dramatic and each one like a tiny treasure.
All our cakes are one-of-a-kind couture creations We use only the finest organic ingredients and finest chocolates. We pride ourselves with not only making stunning evocative creations but with truly scrumptuous tasting cakes as well!