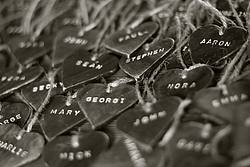 I am delighted that you are taking a look at my range of personalised cards and hanging decorations!
Most of my designs are based on or using a classic heart shape which has become Ditto's signature design, along with the word repetition running through the background of almost all of the card designs
which sowed the seed for the name chosen for my shop. Ditto.
My cards offer an original contemporary style whilst remaining simple and elegant.
Our range of baby, christening and wedding cards are so well received that many of our customers tell us they have framed them and hung them on their walls.
Ditto's range of clay decorations have also proved to be hugely popular.
Our slate effect hearts have been bought in their thousnads for weddings and as personalised Christmas Decorations
And our doggy bone Christmas decorations are one of the stars of the show!