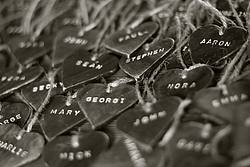 Ditto specialises in personalised hanging clay tags for all occasions such as wedding table settings, special dinner events and decorative affairs such as the beloved Christmas Tree which has been our top seller for over 5 years! With two distinctive colour and material choices but ultimately both styles offer a rustic ad homely feel. Our black polymer clay tags (see main brand image) embossed and rubbed over with white paint, give a chalk board or slate effect whilst the natural air dry clay tags are a little more delicate and subtle and often the choice for weeding tables as they are whiter and a little bit more elegant in style and look.
All our tags come with a jute string attached through a hole ready for hanging or tying around cutlery or napkins (unless specific requirements request otherwise)
Last year our biggest ever order was for a private event making 650 tags for a very well known restaurant chain specialising in chicken!!
But we are just as happy to make up our smallest order of 3 tags and for previous customers adding to their collection they can order just one.