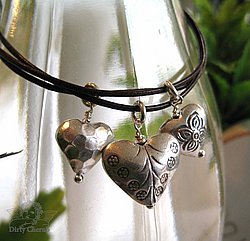 …Jewellery, like chocolate, should spoil you...
Dirty Cherub have been making original silver jewellery since the summer of 2003. Our sought after pieces are made thoughtfully, with loving attention to detail, using Sterling and Thai silver mixed with leather, semi-precious stones and Freshwater Pearls.
Our first inspiration was seeing a beautifully tanned arm adorned with soft brown leather and white Freshwater Pearls. Our daily quest is to create something beautiful. Our jewellery is easy to wear and we make sure that each piece hangs and falls elegantly, just as it should. We have an intuitive approach to colour, style, texture and form in the designs and know what you like
We hope you like our selection. Keep visiting as new designs will be added frequently.
Many are envious of those who own a piece of Dirty Cherub Jewellery.