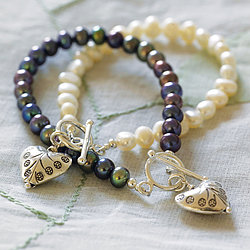 Hi, I'm Jem Peck, founder and designer behind the brand at 'Dirty Cherub' bespoke jewellery. After many years of searching for my creative outlet through music, design and teaching, I finally decided to set up the company in the Summer of 2008. What started as a hobby grew into a real passion that launched my collections for both men and women using the highest grade materials with an attention to detail. It is important to me that each component is responsibly and ethically sourced. In my quest to discover the highest possible grade of silver, I came upon the Karen Hill Tribe, who populate remote villages across Thailand and Burma. The silver is 99% pure, higher than sterling silver and has a weight, bright satin colour and feel all of its own. We can guarantee the origins ensuring the artisan is fairly represented from a sustainable operation. I have also had silver pieces commissioned exclusively for Dirty Cherub by the Karen Hill Tribe. Their work is rustic, beautiful and full of Thai spirit!
I make all the jewellery from home - a regular cottage industry - but always with an eye on timeless design and quality. Each piece is made 'fresh' to order and the elements should sit and hang just right. I want each hand crafted piece to represent a standard of unique beauty, at an affordable price. I like to call it achievable style!
My jewellery is completely exclusive to NOTHS.com
I hope you enjoy wearing your new piece as much as I've enjoyed making it for you.