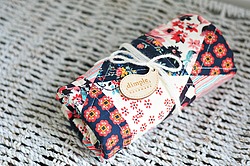 Hello and welcome to my little corner of notonthehighstreet.com.
I am Dimple Stitch (aka Laura), and I design and create all my handmade quilts from my home studio not far from Windsor, where I live with my two cats and three hens Audrey, Myrtle and Priscilla.
I have been quilting for some time now, and after realising the cats found my blankets absolutely irrisistable, I decided to create a range of mini-quilts designed exclusively for felines and their canine counterparts!
There is nothing more special than a handmade gift and my patchwork quilts are designed to be contemporary and beautiful, yet practical at the same time. They can be used on your pet's favourite chair, bed, rug or carseat offering them a comfortable place to sit and sleep, whilst keeping your furniture fur-free and brightening up any room. All of my quilts are handmade to a high standard with good quality designer cotton fabrics and batting, and many can be personalised with a name or initial of your choice.
Thank you for visiting. Please get in touch if you have any queries at all, I would be more than happy to help.
Laura x