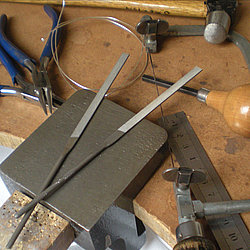 My distinctive jewellery is inspired by simple geometric shapes to form an eclectic collection of contemporary designs and mixing different finishes for a subtle visual contrast. Other influences are also drawn from my everyday and life experiences, which is emulated in my Signature Collection, 'Circles & Curves'. The circle representing my career 'turning full circle', coming back to what I really enjoyed doing and the belief that is what I should be doing. The curve depicts what life has yet to hold for me.
Featured in my designs are precious and semi-precious stones, which express my passion for colour. Pieces are complimented by polished, semi-matt and textured metal finishes.
Each piece is handmade making it unique and individual as the wearer.
I hope you will be inspired by my collection as I have been in creating it!