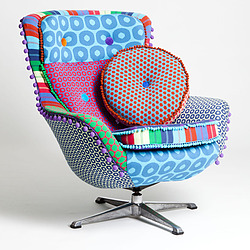 Deryn Relph uses the unique properties of knitted textiles to create an innovative range of interior and lifestyle textile products in rainbow colour combinations, and a characteristic mix and mis-match style.
With a retro, yet contemporary feel, the pieces evoke a nostalgic happiness, hopefully encouraging people to keep things they love for longer. Embracing the power of colour as a sustainable design solution, the products are made using quality factory surplus or UK sourced yarns, using fibres such as lambswool, cotton and bamboo.
Inspired by natural structures, microscopic imagery, and childhood memories, products combine machine knit, hand knit and crochet, a quirky play on scale and an element of fun. Everything is designed by Deryn and made by her and a small team of knitters in Britain.
The current range includes lampshades, cushions and furniture pieces, many of which are unique, one-off pieces.