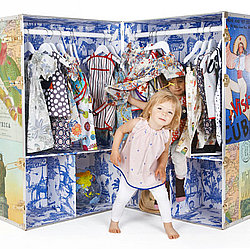 Welcome aboard Deluna! Makers of super-chic clothes for cosmopolitan kids.
Inspired by the golden age of travel, Deluna takes influences from around the globe, picking up ideas that are fun, chic and stylish, everything you hope to find in that perfect holiday outfit.
The collection for girls (12 months – 4 years) is based on original vintage dress patterns which we've given a modern make-over. A fleet of design classics have been given the Deluna twist, 70's running shorts, Palazzo pants, Kimono dresses, Harem pants, 50's halter-neck playsuits for the beach, and our completely original Swan Dress that will be guaranteed to turn heads.
We pride ourselves on having a fun and fresh approach to children's fashion whilst remaining super-stylish without taking ourselves too seriously. Our designs are stand alone pieces where we mix and match accessories, anything goes, give it a try!
All our fabrics are carefully sourced to give a vintage feel and our clothes are not mass produced but hand made and finished in the UK. Individual and unique to each child each piece is designed to be lovingly worn and kept forever. Deluna aims to solve all your packing dilemmas for the holidays and take you all the way!