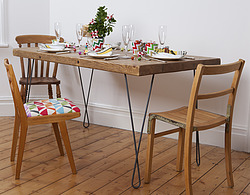 Our aim at 'deja ooh' is to give new life to un-loved or tatty pieces of furniture. Using traditional and modern upholstery techniques and gorgeous fabrics we can turn anything from an 'ewww' into an 'ooh'!
Set up in 2013 by Katy and Bea, Deja Ooh came from a need to swap mundane jobs for creative careers, as well as a desire to utilise their extensive creative skills. They offer a developing and diverse range of one off furniture pieces, as well as a unique range of accessories for the home. These include handmade animal chopping boards cut from recycled kitchen worktops, fabulous fabric covered flower pots and coat hooks, which will brighten any room, and matching hand-crafted cushions with vintage button details (all from Nana's button box!).
"We like to think we bring a fresh approach to homeware, complementing the old, without compromising style and quality."