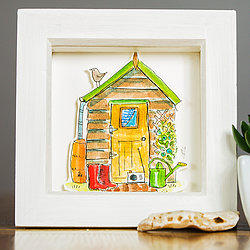 Working from my home studio in the Cathedral City of Ely, my passion is drawing and I love what I do. I am inspired by humour, colour and everyday life. All my products are designed or created by me, so you can be sure you're purchasing something unique.
My prints are produced in the UK. Prints created to Fine Art Trade Guild standards and inks are archival quality.
Family or wedding celebration portraits are very welcome, It's wonderful to be commissioned for something so special, bespoke and personal that brings happiness to the recipient.
As an illustrator my recent commissions have included: children's books, giftware and stationery. My work has appeared in local and national Press: Coast Magazine and Cambridge Magazine.
Member of The Association of Illustrators and Cambridge Open Studios.