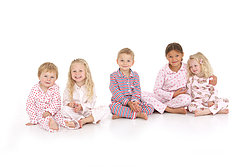 DARCY BROWN believe that children's nightwear should always be made with children in mind.
Every DARCY BROWN collection reflects their passion for quality fabrics, stunning design and classic cuts, so that the first thing you see and feel, is wonderful.
DARCY BROWN clothes are made for modern day lives and with modern day mothers in mind. They believe you don't have to sacrifice style for practicality, that's why all DARCY BROWN nightwear is washable at 30°C.
Whether you are shopping for a special occasion, a special person, or for everyday, the DARCY BROWN collection on notonthehighstreet.com has something special for you.