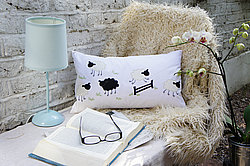 Working from a small studio in the Bedfordshire countryside, cushions covered produces a range of printed pillowcases as well as handmade, bespoke cushion covers using appliqué and various embroidery techniques as well as the printed versions.
We offer both standard and Oxford pillowcase styles which are made for us in the UK using 100% cotton fabric which has a 200 thread count. In addition to coming up with original designs, our in-house designer also creates all of the fonts for our pillowcases.
All of our unique cushions are designed by us, hand cut by us and handmade by us. The only time our cushions meet a sewing machine is when the fronts are sewn to the backs.
With our wide range of styles and colours you're sure to find just what you're looking for, whether it's a special gift for a friend or a treat for yourself and, just in case you can't find exactly what you're looking for, we can always make one just for you!