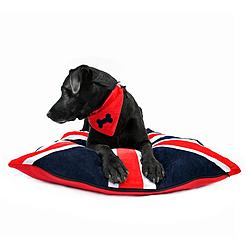 Creature Clothes - designed by Cosima Pole, handmade in Suffolk, England & thoroughly tested by our dogs and their friends. Everything we create is made with love, care and specific attention to detail. take our beds - Dog Dozas and Cat Nappas - they won't go lumpy when washed, but just remain gorgeously squidgy. The covers are fully removable, and the inners are interchangeable for summer and winter.... I don't know a dog who isn't a fan.
Creature Clothes evolved from a collar Cosima made for her dog 'Vodka'. Cosi had been searching everywhere for a smart collar for her - something cool and funky, yet hard-wearing and dog friendly, but there was nothing to be found in the shops. So Cosi made it herself! People started coming up to them everywhere they went, whether they were walking on the beach or taking a trip on the London Underground, asking where she had found her collar...Creature Clothes was born!
Now, years later, both the business and Vodka's family have grown dramatically. We design and make a whole range of pet and owner accessories, making sure we remain true to the company ethos as it was when Cosi designed that very first collar - cool kit for dogs and cats that they would buy if they could! Bespoke Doza's and Nappa's are available, please contact us to discuss your requirements.