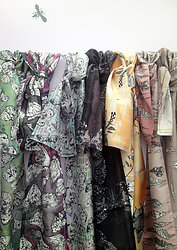 'Passionate about Colour and Print'
Craig Fellows is an award-winning textile print designer with a passion for colour and illustration, combining his fine art talents with his love of print and textiles. Using traditional, contemporary and digital printing techniques, Craig transforms his illustrations into luxurious fashion and interior accessories. Craig's work creates an innovative dialogue between line and colour, developed using both contemporary and traditional practices. Naturally occurring colour is used with hand illustrations and layered textures to create a series of fresh contemporary collections.
Each piece is designed, printed and hand-made in Britain. This makes the work completely unique and can truly not be found on the high street.
Craig graduated with a First Class Honours Degree in Fashion from the University of Northampton in 2008. During his studies his work was regularly exhibited and selected to represent the University in a number of competitions, including Clothes Show Live, New Designers and Graduate Fashion Week; where his collection was selected for the Gala show and the Zandra Rhodes Textile Award. With strong links with fashion, Craig has been able to work on exciting live projects with the British Leather Council, Drapers and Textile Lecture Days alongside Zandra Rhodes.
With all this already under his belt, it's not surprising that Craig Fellows is considered "one to watch" by VOGUE.com.