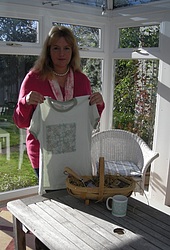 Country Garden Gifts is based in the Sussex Downs. We sell a range of garden inspired gifts, garden tools and country homewares. Our main focus is selling carefully selected quality brands such as Burgon and Ball, Heaven Sends, Apples to Pears. We also have our own range which has been designed with our customers in mind.
Our main product ranges include gardening tools such as hand tools, ornamental and indoor watering cans, secateurs. We also sell a full range of vintage homeware with items such as shabby chic frames, bird cages etc. In textiles, from ulster weavers we have farmyard aprons and animal tea cosies. We also sell gorgeous vintage jewellery from Lovetts and modern jewellery from Big Metal. To complete our range we have a partnership arrangement with Amazon on our main store, so that our customers are able to get country items not available on gift sites such as Argors and cookers.
What makes us unique is our own product range which includes items such as shabby chic clocks, flasks, mugs, t shirts, bags and the like. What is really great about these products is that you can have them customised to your specifications.
Visit us today!