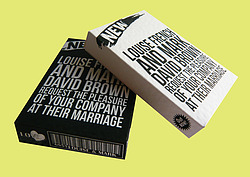 Our style is contemporary, modern and fun - moving away from tradition. Our main aim is to offer something new and different that your guests won't be expecting!
We offer a modern take on all your wedding stationery needs, taking inspiration from the arts. With expertise in graphics & fashion we hope to bring something new to the wedding sector. We're inspired by all things modern and different, and we love to be inspired by contemporary graphics and packaging.
We're always looking for innovative ways to design completely unique invitations.
Based in the lovely countryside of Derbyshire there's always plenty of unique and wonderful things to be inspired by!