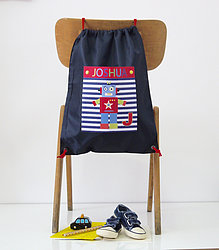 Hello and welcome to Constantine Jo we are a small design team that offers contemporary, but timeless children designs, every item you will see is made to order by ourselves in our studio in the Cheshire village of Bollington.
As a small business we have a long term commitment to provide our customers new and old a collection of good value, delightful, fun, simple but classic looking contemporary children designs.
A lot of our inspiration comes from story book illustrations, animals, transport, images that baby & children can relate too brought to life using a traditional method of machine and hand sewing, it takes our team of two Jo the designer maker, who has a background in commercial design for the greetings card market, a huge love of patterns, which she likes to develop in to fun and functional cute little drawstring bags and personalized prints for Children, and our wonderful Kathy who is our resident machinist... Sewer extraordinaire, maker of all designs that Jo creates, together they both have masses of experience in making and creating, so with this in mind we welcome you to our gorgeous contemporary collection of personalized children gifts.
We are always here to help so please feel free to get in touch if you are looking for a special bespoke gift that you cannot see in our offering, with our items being made to order we welcome any special request weird and wonderful, that will make your gift special for you and your loved ones.
We hope to see you soon! x