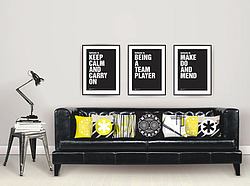 British designers Mandy Colliss and David Quinton have designed for global brands in graphics, 3D and packaging design but it is interior design and decoration that has long been our passion.
The Colliss & Quinton company was established to specialise in interior products with both a traditional and modern design form to help create exciting, contemporary and eclectic spaces. All our designs are created to enhance both modern and period schemes.
Key to our design is our use of bold, organic forms and richly layered images. Used creating elegant and glamorous interiors. We have an international reputation and our designs have been used to furnish and decorate homes, hotels, restaurants, business corporations, cafés, show homes, hospitals, schools and retail stores.