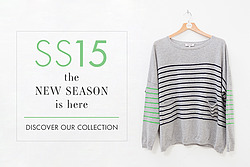 Cocoa Cashmere is a British knitwear brand, designed in London, the capital of fashion. Cocoa is proud of its established heritage and believes its British attitude is reflected in the brands contemporary, edgy and colourful characteristics. To accompany the design studio in London, we manage production and delivery from our office in Scotland which is situated in the heart of the traditional British cashmere industry.
Cocoa Cashmere effortlessly captures the luxury of the best quality cashmere available, complemented with the beauty of contemporary design. Innovative prints and an extensive colour pallet have become Cocoa's signature style, securing the brand a place within the realm of international fashion.
At Cocoa Cashmere we invest time into travelling, exploring Inner Mongolia in search of the finest cashmere. The dedication to delivering the highest quality lies within the culture of the company and sourcing fibres is a specialist task; one that requires time, skill and knowledge. Cocoa Cashmere believes in sourcing the finest fibres and purchases the fibre directly from Inner Mongolian farmers. Garments are delicately made by the thinnest fibre with the longest fibre length.
Our overriding philosophy is quality in every aspect, from goat to garment.