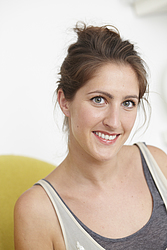 The first Clippy bag was made by Calypso Rose (Clippy to her friends) on the kitchen table. This was because she wanted display her collection of Polaroid photos in a bag.
Lots of people stopped Calypso in the street and wanted to know where the bag had come from. Calypso decided to put 250 bags into production. A large bag was customised with a sign reading 'Stop me and buy one' and a stall was hired on the Portobello Road, London. All the bags were sold in the first month. Very lovely celebrities started to personalise the photo pocket Clippy bags including Helena Bonham Carter, Jools and Jamie Oliver and Thandie Newton.
At 22, Calypso became London Young Business Person of the Year an since then the range has just continued to grow from the original bag to stationery to our fabulous new lunch bags. Calypso now runs the company with her mother Clare, who does a lot and Ted the dog, who does a bit.