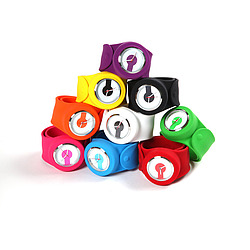 CLICLOC is a London based fashion brand that designs and sells quirky and colourful fashion accessories. Founded by Obi and Brian, two born and bred Londoners, we are continually working in our labs, coming up with new and fun ways to improve and add to the range.
We make high quality products that have a distinctive and simple design while remaining quirky and fun. As you may have noticed, we also love bright, pure colours which make our watches instantly recognisable. Our original product, the CLICLOC Classic, with its utilitarian design and signature click and lock action has already received a great response from our customers.
So what is a CLICLOC watch? It's not bling but it will get you noticed. It's not complex but the attention to detail shows. It's not over the top but it is colourful and vibrant. It's not crazy but it is quirky and fun. It's not a replacement but an expression of your style. It's not a fancy chronograph but it does tell the time. This is CLICLOC, a watch as versatile as you.