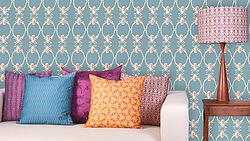 Emerging British design duo Sandra and Sophie Penford are the creators behind Clementine & Bloom. With backgrounds in printed textiles and embroidery, and experience gained from working around the world in the creative industry, we launched our own eclectic homewares range in the spring of 2012.
Our collection of printed fabrics evolved from a series of drawn studies of archived insects; entitled Entomology it explores the repitition and patterns of bugs, beetles and butterflies. From these fabrics we have produced a range of lampshades and cushions, perfect for adding colour and pattern to your home.
All our cottons are digitally printed in the UK. From our studio in Kent we hand print our silk designs, roll and hand finish our lampshades and make each cushion individually. This hands on approach allows us to work one to one with customers, directly with interior designers or specifically for retailers to create bespoke lampshades or cushions to their requirements. With 99 different silk colours to choose from, various metallic and ink finishes why not get in contact and let us create something unique for you.
Spring 2014 sees the highly anticipated release of our Gigantic Beetle Wallpaper, printed using traditional methods on sustainably sourced paper as well as new prints and an expanding range of products.