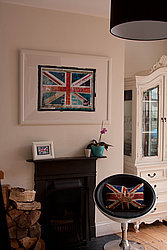 I am Clare Isaacs. I live in Bristol and have had the pleasure of some amazing quality time with my two girls for the first few years of their lives. Now they are at school and not hanging off my legs all day it's allowed me the time to start producing the work that I have dreamt about for the last six years, not that I would change a single day of it!
My work is produced as prints from computer based design. I use found objects scanned in, photographs taken by my husband Toby, my own handwriting, plus any other beautiful images together to create each piece. Some of my work is hand finished using sequins and gold leaf for example. I do anything from commissions where I use photographs of people included in their prints to birthday cards, name prints and birthday and wedding invitations.
My aim is to produce work as visually appealing to the eye as possible and hope they are something most people would be able to find space for somewhere in the home, be it large or small.