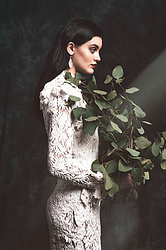 Chupi is an Irish designer, making delicate gold jewellery inspired by the beauty of natural and wild things.
I was the kid covered with glitter & glue, the one making some new crazy thing out of papier mache, but I never thought I'd end up making beautiful sparkly jewellery as my job. Aged 17 I sold my very first piece, vintage Levis turned into a gorgeous bag, lined with bright pink satin and adorned with a rose. I was hooked, the idea that something I had created made someone else happy was incredible. When I was 21 I was scouted by Topshop from my first year of college, the youngest designer to ever to work with them. I went from scruffy student to serious designer overnight.
My gorgeous fiancé suggested I needed a hobby, I couldn't help but start making the jewellery I wanted to wear but couldn't find. A friend asked for a piece, a stylist loved a ring and suddenly I was a jeweller. The last two years have been a sparkly whirlwind, we have had the most amazing response from everyone alongside fantastic press coverage with celebrities from Marina & the Diamonds to Ruby Wax wearing and loving my work.
My jewellery is made for your inner magpie, delicate pieces in sparkling gold and the shiniest semi-precious gems. Each piece is made with love in Ireland.
x Chupi