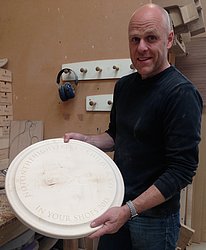 Welcome to Childs & Co for beautifully crafted products
individually made for your home by Iain Childs.
Iain is passionate about design and making, after graduating at Art college he
taught for a period before fulfilling his ambition to run his own design studio.
Childs and Co was established 10 years ago, with the personalised children's
toy box. Since then he continues to develop a range of products in his
renowned style of clean lines, durability and sustainability.
Where do his ideas come from?. Usually when he is out on his bike, but also from
listening to his customers, ideas develop into contemporary well designed and
easy to use products made of the best materials personally sourced locally for you.
From big to small each item has the same attention to detail and personal
effort put into its construction.
Iain supports other small businesses in and around the historic market town of
Kendal in the lake District, Cumbria, where Iain's studio is based.
At Childs & Co we design furniture and accessories for you and your home, becoming family heirlooms.
In addition to our stylish product range Childs and Co also commission and
produce one off pieces tailored to your personal needs and taste.