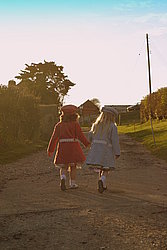 The Springtime Adventures of Cherub Child, Chapter One:
Highgate, London, 20th January 2006. The day the whale got stuck in the Thames. The day a stork arrived carrying a little bundle. The day the inspiration that is now Cherub Child was born.
Today Cherub Child is a fashionable, contemporary, but traditionally inspired childrenswear brand. Cherub Child is influenced by styles from varying eras as far back as the Victorians, without becoming overly fussy or restricting. Attention to detail ensures each garment has a unique, handmade feel which is comfortable to wear. Our brand new, capsule Spring/Summer collection comprises tailored coats in beautifully-soft moleskin trimmed with Victorian inspired lace, teamed with matching berets, and fresh cotton peter pan dresses and circle skirts with vintage rose prints.
Until recently, childrenswear seemed to be dictated largely by fashion for adults that then filtered down to children, some of which were not necessarily appropriate. The brand's designer Michelle Barrett knew as a parent herself that this was a concern for other parents. Having had a successful career for over ten years as a costume designer on productions such as Bridget Jones and Spooks for BBC1, she created Cherub Child to fill this gap in the market. The result is a timeless collection, evoking and supporting the innocence and the playfulness of childhood.