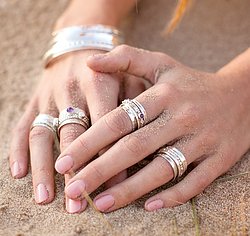 Welcome to Charlotte's Web Jewellery, the bohemian-luxe Fair Trade jewellery, clothing and accessories boutique designed to make you look and feel extra-special, every single day.
Take a look inside our sumptuous treasure chest of goodies, beautiful sparkling silver and gemstone rings, choose from simple silver spinning rings, gemstone stack rings, and lots of real statement pieces...lovely antique style leather purses and beautiful colourful scarves! We have lots of fabulous gift ideas, there really is something for everyone.
Our clothing collection has a stylish yet easy to wear feel about it. Our designs combine soft chiffons and natural cotton with vibrant patterns and funky prints. The collection has a bohemian yet contemporary vibe, mixing high-end European design with fine Indian craftsmanship, and in fact, all of our clothes are fair trade and lovingly handmade in India. All perfect if you are heading off on a summer or warm winter getaway!
We believe that women want to look original, so you won't see any of our designs and prints on the high street - they are totally unique. And we pour our heart and soul into our products, and hope they give you the confidence and creativity to express your true self – free spirited, natural, and sexy.
We hope you enjoy wearing them as much as we enjoy making them! Love, Charlotte