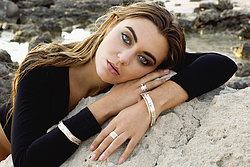 LIVE AS YOU DREAM - Everyday luxury, for free spirits, created consciously.
A decade of adventures by the free spirited founder, Charlotte Howarth, spanning continents and embracing different cultures, has resulted in the enchanting world of Charlotte's Web.
An escape from the everyday, our jewellery and accessories transport you to a magical place. We aim to recreate the heady feeling of adventure and travel with our pieces, combining our love of both India and Ibiza, to harness that wonderful care-free, feet in the sand feeling of being on holiday when you delve into our treasure chest of sparkling, captivating collections.
Our signature selection of spinning jewellery has expanded from spinning rings, to bracelets and pendants, used throughout history to calm and soothe the soul. These are an integral part of our collection, instantly entrancing wearers with their magic and they have always proven to be our most popular pieces due to their unusual nature.
Over time, our passion for what we do, and our designs have grown, to encapsulate a heady collection of uplifting and unique jewellery, all carefully handcrafted from sterling silver, mixed metal and precious stones. Our lifestyle selection offers a diverse, enchanting range of vibrantly coloured clothing, scarves and accessories, and we take pride in sourcing all of our prints and fabrics directly.
The way in which our jewellery is created is of the utmost importance to us. The majority of our pieces are made by hand in India, and traded fairly along with our own branded packaging.
Your Charlotte´s Web creation will be elegantly presented in our signature pouches and gift boxes, and though we're confident that you will love your Charlotte's Web creation, if you find that any item you have ordered is unsuitable, we have a flexible returns policy.
We dare to dream big, and will continue to bring you beguiling jewellery which captures imaginations, combining unique, enchanting designs with wellbeing.