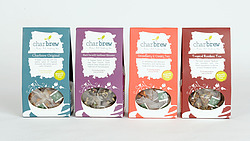 Welcome to Charbrew, the home of Fresh Full Tasting tea. Charbrew is no ordinary brew, each tea is packed full of the freshest finest ingredients from around the world to deliver a flavoursome full tasting tea and infusion.
Charbrew is a specialised tea company which is focussed on bringing younger consumers into the tea aisle. Their range of Funky Flavours coupled with the quality ingredients in each of its blends provide refreshing ways of bringing innovation to the UK tea market.
Charbrew's teas are delivered in biodegradable mesh tea pyramids, allowing the tea and infusion blends to include whole leaves, herbs and spices. Charbrew is not just a normal tea but an experience.